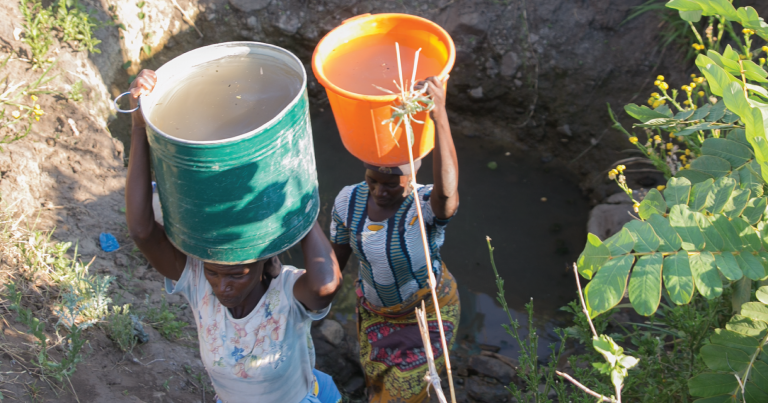 Raising $515,000 to reach 15,000 children and their family members in Malawi, Uganda and Zambia—that's Thriving Kids Africa  immediate, urgent goal. But it is part of a much bigger picture, and much longer story.
"Thriving Kids Africa is not a year to year campaign," says Zach Oles, Cross International's Director of International Programs. "It's a commitment, and that is most displayed in the Tanganyika Village with our local partner, Ambuya Development Center."  
Ambuya Development Center is a family-run Christian organization whose mission is to empower the women and children of rural Malawi and improve the livelihood of their communities. Their holistic development work is fueled by love and Jesus's command to:
 "Love the Lord your God with all your heart and with all your soul and with all your strength and with all your mind'; and, 'Love your neighbor as yourself." – Luke 10:27 (NIV) 
Ambuya was started by Dr. Victor Madziakapita and named in honor of their mother: Ambuya means "grandmother". Dr. Victor grew up in the same community he know serves. His family worked hard and sacrificed much to send him to school. He earned his doctorate in development and worked for World Vision before beginning Ambuya to help meet his home village's needs.
And the needs are great. Eighty-five percent of the population Ambuya serves lives on less than $1 a day, far below the international extreme poverty line (currently $1.90 a day). The HIV/AIDS pandemic has left orphans in need of care, many villagers struggle with drug and alcohol abuse, and the area lacks easy access to the basics: clean water, food and education. In addition, Cyclone Idai destroyed 300+ homes this spring, leaving many homeless.    
"Dr. Victor totally relates to all of it because he lived it and suffered through it like these kids," Zach says. "But this next gen doesn't have to because of Ambuya."  
Dr. Victor's family works together to lift their community up. One of his brothers, a pastor, is the board chair. His nephew is in charge of purchasing and logistics. His sister Esther is known as the heartbeat of the program, and the vegetables for their feeding program are grown in her backyard. It is a truly grassroots organization built on world-class development principles and genuine faith. 
"Dr. Viktor is the success story for this community," Zach says. "We get this high-caliber leader in the most local, most authentic Christian ministry that exists. That's a win-win for us."
Eighteen months ago, Cross International came alongside Ambuya to help install a clean water system to provide water for Thanganyika and other smaller villages in the area. Access to clean water was transformational. Cross International is now helping to support Ambuya's projects, all designed to provide interconnected basic needs that can help break poverty cycles. 
Zach says Ambuya's work and philosophy aligns perfectly with Cross International's strategy. On a recent trip to visit Amubya and other African partners, Zach got to meet some of the people whose lives have been changed by Dr. Victor's organization. 
There's Fanny and her baby sister, abandoned by their mother and being raised by their teenaged uncle. Their home was rebuilt by Ambuya after the cyclone, and Fanny receives food and school assistance as well. There's Patricia, who became a mother at only 11. Twenty years later, she's now in the microloan program, learning to run her own business. Tamala, who has four children, including one who has special needs, has a home and hope for the future thanks to Ambuya's programs. The stories go on and on.
"Our partnership is based on long-term thinking," Zach says. "It's based on knowing the locals have the answers, not us. It's based on respect and Christian attitudes. It's based on love and kindness." 
Bring more love and kindness to Malawi's women and children by giving to the Thriving Kids Africa campaign.