For many children and families in the African countries of Malawi, Uganda and Zambia, God's presence can feel far away when they lack basic needs like food and clean water. Children suffer from sickness and disease caused by contaminated water, and chronic hunger can keep them from attending school or developing physically and mentally.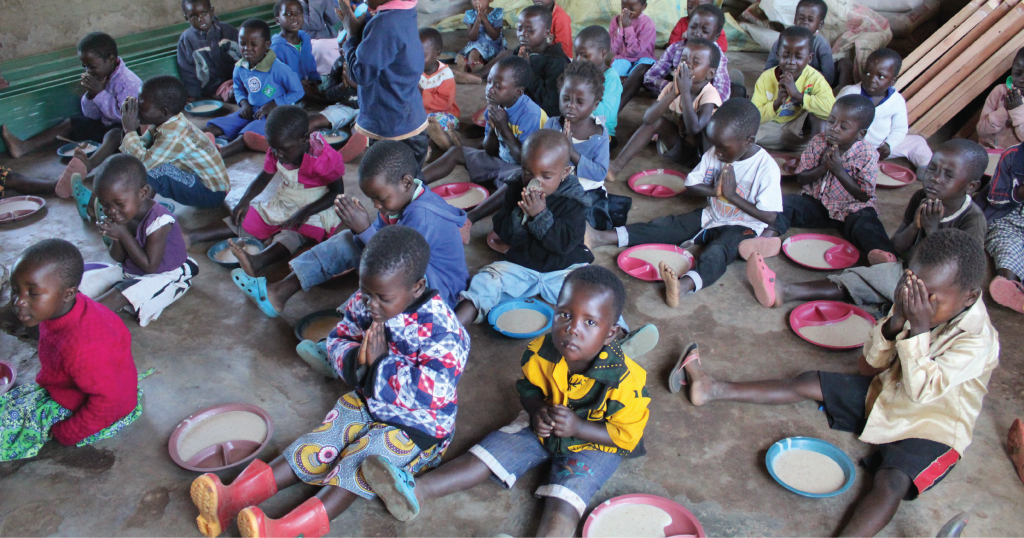 Our Thriving Kids-Africa program exists to eliminate these barriers to hope. Its mission is to mobilize the global Church to transform communities in need materially and spiritually for the glory of Jesus Christ.
Thriving Kids-Africa is doing things differently to make a lasting impact in the communities we serve, and across the country. Instead of starting another institution to distribute aid and create dependency over sustainability, it supports existing ministries and churches already serving the community. In addition to being the most cost-effective way of helping the marginalized, empowering these ministries allows us to support the Church's spiritual mission and its important position of leadership in vulnerable communities.
Thriving Kids-Africa works with its in-country ministry partners to deliver food and aid to local churches in developing areas. While serving their local communities, leaders share the life-saving Gospel of Christ. Thriving Kids-Africa partners with three local organizations:
Kachere Development Program: This church-based ministry seeks to transform lives in Zambia by installing community water wells, helping kids go to school, supporting farmers and distributing Bibles.
Ambuya Development Center: Founded by three siblings from a nearby village to instill hope in a new generation of children growing up around Malawi, ADC provides daily meals to at-risk children and students, and reaches them with God's Word and an experience of Christ's love.
Project Princess Initiative: Encourages and empowers close to 1,000 girls in Kampala, Uganda to stay in school through scholarships, school supplies, skills training and hope for the future.
Thriving Kids-Africa reaches over 10,200 at-risk children and families with food, water, shelter, sustaining income, women's empowerment and the Gospel. Through donations and gifts, the program can dig community water wells and train villagers as maintenance staff, build a feeding center and fellowship hall, provide meals, fund savings and microloan programs, provide job and skills training for over 1,200 orphaned or HIV/AIDS affected girls, and create access to remote villages. Local leaders are transforming lives and manifesting the Father's love for vulnerable children across Africa and beyond.
We truly believe the cycle of poverty can be broken with a compassionate response. By working with and empowering our local African partners, we are together serving children and families in desperate need. Lives are eternally impacted through food, water and the hope of Christ.
Want to know more about Thriving Kids-Africa or how you can be a world-changer? Visit us here.