Our plan was to build 20 homes. It was a modest goal we knew our supporters could meet. Then I hopped on a plane to Zacapa, Guatemala, and everything changed.
As my wife and I met some of the families living in remote mountain communities and saw the full extent of their struggles, I just knew that our vision for our spring initiative was too small. We had to double our goal. Forty houses for 40 families. That has be our baseline. I'm praying we'll do even more.
What especially gives us a sense of urgency is the children. Our passion is to see them thrive, and we know that the sooner we reach them, the better their chances of recovering from want and hardship and growing into their full potential.
But right now, these kids don't see that potential. And their parents often have no hope.
There is this precious little girl, Delmy, in the village of Cajon del Rio, who was born with deformed legs. When our local partner, Hope of Life, found her, her family had given her up for dead because there was nothing they could do. With God's guidance, generous supporters, Cross International and Hope of Life saved her, nurtured her, enrolled her in school, educated her parents on how to take care of her, and by God's grace was eventually able to reunite her with them. Now we want to help Delmy and her family take the next step to a thriving life.
We're not just here to build a house. We want to build a house so that Delmy doesn't have to crawl in the dust of a rotting thatch hut, and so that she isn't soaked in mud on account of a $46 roof repair her parents can't afford. A real cement floor in a sturdy, weatherproof house will increase her mobility, lessen her suffering and send her a powerful message of Jesus' love.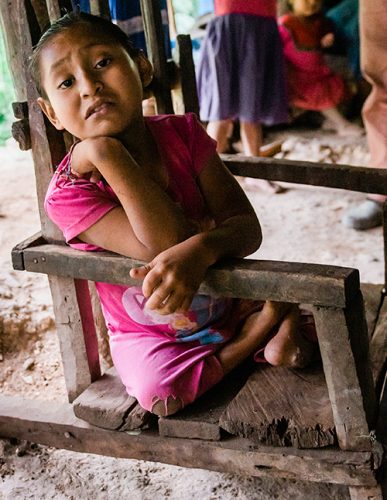 Delmy has endured terrible cruelty. She's been mocked and rejected by her peers. But when we come together as the Body of Christ to easy this little girl's suffering, we're helping her see she is a treasure, wonderfully created by her Heavenly Father.
Not every child in line for a new home has suffered as deeply as Delmy, but all are greatly vulnerable, and all have the potential to shine. I can't wait to see how many friends were are able to rally to this cause, and how many families we're able to bless with the life-changing gift of a safe, sturdy home
Please Visit our website to learn more about this project. This is a tremendous opportunity to share Christ's love in a practical way that these families will never forget, and we're praying you'll join us!