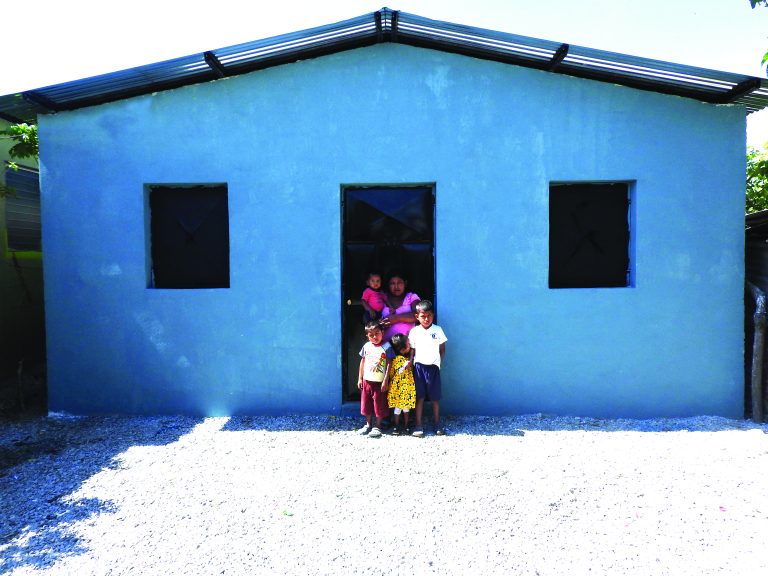 Chances are the floor beneath you right now is a soft carpet, beautifully stained kitchen hardwood or smooth tile, right? That solid ground within your home gives you warmth, safety from disease and danger, rest, and peace of mind for body and soul. That stable foundation is everything.
Today, 1-1.5 million Guatemalan children and their family members live in homes made of dirt floors, cornstalks, mud, sticks, and any other materials they can find. These makeshift structures leave them vulnerable to violence, theft, and diseases such as asthma, tuberculosis, influenza, anemia, and diarrhea, as well as decreased mental health. 
God is helping kids thrive through your generous giving!
Thanks to generous donors like you, Cross International is doing more than just replacing dirt floors. With help from our ministry partners in Latin America and around the world, we're providing entire, safe and secure homes for marginalized families. For example, at Hope of Life in Guatemala, we've already built more than 20 concrete block homes, impacting over 200 people.
As we celebrate the good your giving has provided, we cannot ignore the work still left to do. Cross International relies on local pastors and Christian leaders to help us identify which families are in the greatest need of a new home, creating the opportunity for God's love to be shared. Telling families this help is in Jesus' name opens their hearts and minds to receive the Gospel.
What's under your feet matters.
Replacing a dirt floor with cement can be as good for a child's health as nutritional supplements and as helpful for brain development as early childhood development programs. Cement reduces parasites, resulting in 13% less diarrheal disease, a 20% reduction in anemia –both life-threatening –, 30% higher scores in language and communication skills and 9% improvement in vocabulary in children under six. Not only are children better off on a strong foundation, but studies find that their mothers are less depressed, less stressed, and happier. 
The impact of your donation to Thriving Kids is huge: healthy housing stabilizes lives in unimaginable ways. A lockable door protects against danger and theft. A nearby latrine reduces parasitic infections. A roof gives a family rest and shelter from driving rain. When basic needs are met, an entire community is impacted.  For children and families around the world, housing is health. 
Stable homes, stable families
Healthy homes change lives by creating income opportunities, advancing education, improving health, reducing crimes against women and children, strengthening faith, supporting mental health and much more. 
We pray you'll continue to support Cross International's Thriving Kids initiative as we build homes and provide other life enhancing services for families. We believe that thriving kids need a safe home and the knowledge of God's love. Please join us!